The specialist classes at St Peter's School are Performing Arts, Physical Education and Japanese. 
Performing Arts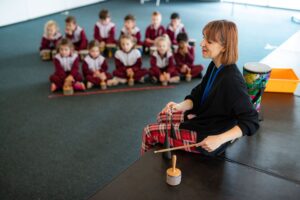 The Performing Arts specialist program encompasses Music, Drama, Dance and Media Arts. As part of our weekly lessons, students explore and discover these avenues of creative expression through student-led curriculum based learning.  
Alongside this is our Glee lunch club, where students can join in singing and dancing as well as individual share-time. Students also look forward to their senior year at St Peters' for the privilege to have jam sessions with fellow classmates using various instruments.  St Peter's showcases the talents and creativity of their students in a bi-annual stage production. 
Physical Education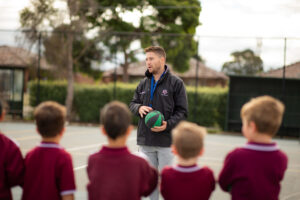 At St Peters students will have the opportunity to engage in weekly timetabled physical education classes. These classes allow students to develop fundamental motor skills, fitness and game sense.
Amongst our weekly lessons, students have the opportunity to participate in major carnivals such as district, divisional and state competitions. All year 3-6 students are encouraged to be involved in the athletics, cross-country and swimming carnivals offered throughout the year.
All year 6 students compete in the School Sport Victoria (SSV) District Interschool Winter and Summer Sports. This gives students the opportunity to demonstrate teamwork and 'sportspersonship' traits on a weekly basis. There are also a number of gala days provided for year 6 students to demonstrate their skills in a variety of sports such as soccer and AFL.
Students across all year levels are also able to participate in the intensive swimming program. This program is run by swimming instructors and emphasises the importance of safety around water and provides basic skills within the water environment.
Japanese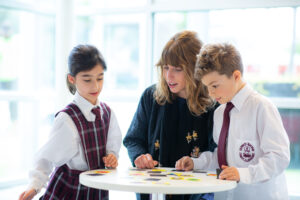 Youkoso!
At St. Peter's Primary School students study Japanese as a language other than English (LOTE) with a specialist teacher. The Japanese program is designed to help students learn through the development of their communication skills and the expansion of their intercultural awareness, appreciation and understanding. 
The Victorian Curriculum acts as a guide for all lessons planned within the Japanese program. The junior curriculum focuses on teaching Japanese language through oral learning skills, this can be achieved through a wide range of activities such as songs, cultural demonstration, listening games and stories, speaking sessions and communication activities. The senior curriculum approach to teaching is based on student participation through structured routines and rich language activities as they start to learn more complex interactions and grammatical structures of the Japanese language. Through their learned language skills, students will demonstrate their understanding of Japanese through both oral and written forms.